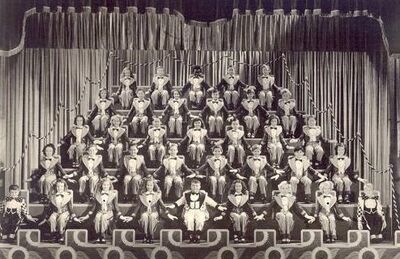 Production Notes
Length: One Reel
Producer: Metro-Goldwyn-Mayer
Director: Edward Cahn and Bud Murray
Photography: Jackson Rose
Editor: Albert Akst
Titles:
Writer: Samuel Baerwitz
Released: March 18, 1941
Studio: M-G-M

Main Cast
Supporting Cast
David Polonsky
Dick Humphries
Jackie Salling
Joline Karol
Marlene Mains (unconfirmed)
Michael Miller (unconfirmed)
Ralph Hodges
Raphael Dolciame
Robert Browning
Walter Wills - Uncle Walt
The Short
Plot: Spanky and the gang are eager to help raise money for the Red Cross, but after their failed show for Waldo's lemonade stand, Spanky is reluctant to put up the effort for another big spectacle. Froggy calls upon his Uncle Walt, an impresario, to help them. Their show begins with "Carry Me Back To Old Virginny" (a song that might have been perfect for Alfalfa) followed by a tambourine act, a tap-dancing special and the thirty-five participants in a pyramid bleacher spectacle. Froggy sings "When De Profundis Sang Low C" followed by a closing round of "Auld Lang Syne" ending with Uncle Walt singing "Lazy Moon." In all, the show brings in $208.40.
Quotes:
Notes/Trivia:
Sequence
---
Community content is available under
CC-BY-SA
unless otherwise noted.