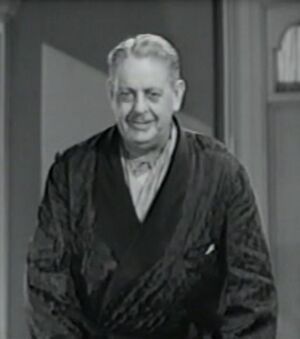 Bio
William Morton is a wealthy and hypochondriac retiree in Greenpoint. Dr. Scott calls him "Old Man Morton" while prescribing him placebos for his imagined illnesses. Dr. Scott suggests to his wife, Julia Morton they should adopt a kid to improve the quality of their lives. Morton double-crosses them by inviting the Rascals in to kill that notion, but the scheme backfires and Morton becomes ingratiated with the gang.
Mr. and Mrs. Morton are attended by a number of servants including a housekeeper named Delia and Evans the Butler.

William and Julia Morton were played by actors Thurston Hall and Josephine Whittell. Evans was played by Gerald Oliver Smith with Delia named only in passing.

Shorts
---
Community content is available under
CC-BY-SA
unless otherwise noted.