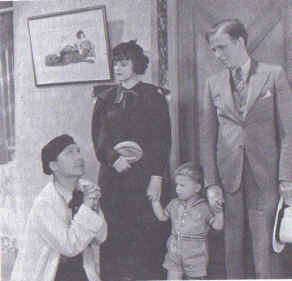 Production Notes
Length: Two Reel
Producer: Robert F. McGowan
Director: Robert F. McGowan
Photography: Francis Corby
Editor: William Terhune
Titles: None
Writer: Unrevealed
Released: October 28, 1933
Studio: M-G-M

Main Cast
Supporting Cast
Emerson Treacy - Spanky's Father
Franklin Pangborn - Otto Phocus
Gay Seabrook - Spanky's Mother
George Stevens Jr. - Unknown (scene cut from final cut}
George Billings - Georgie
Hal Roach - Studio Portrait
Oliver Hardy - Cameo
Stan Laurel - Cameo
The Short
Plot: Spanky's parents are encouraged to get his photo taken by Otto Phocus, the local photographer, but Spanky isn't partial to the idea, especially when he overhears Phocus talking about "shooting" and "cutting" and taking him literally. The gang comes to help Spanky by ruining Phocus's film and accidentally breaking a lens. Spanky's attitude is less than helpful either, often punching the harried photographer to the nose. Finally, dad tries to distract Spanky with one camera as Phocus takes the real shot, but mom gets tangled in the wire. The incident causes Spanky to start laughing. Phocus snaps his picture convinced he has a wonderful photograph, rushing to develop it, but because of the Rascals tampering with his equipment, there's no picture. He rushes to stop Spanky's parents to try one more time, but Spanky has had enough and he pops the relentless photographer on the nose one last time.
Quotes:
"I don't wanna be shot, pop! " - Spanky

Notes/Trivia:
This was the last appearance of Emerson Treacy and Gay Seabrook as Spanky's parents.

This short features a rare cameo by Hal Roach's comedy stars, Oliver Hardy and Stan Laurel, accompanied by their theme music, "The Dance of the Cuckoos" (aka "The Ku-Ku Song"). Hardy made six cameos in the Our Gang series, and Stan made only three. Ironically, years later when asked about working with the Rascals, Stan had no memories of actually working "with" the Rascals even though they often visited each other's sets, and Stan writing gags for the Little Rascals to use on screen. Images of their clip can be found in the book by John McCabe on their film careers.

According the Laurel and Hardy bio by John McCabe, George Stevens Jr. filmed a sequence for this short that was later cut from the final film. He was the son of director George Stevens and was sixteen months during the filming.

Publicity photos reveal that not only was Stevens Jr. on the set for this film, but also Dorothy DeBorba and Pete 3, neither of whom are in the actual film. They were more than likely visiting the set.
Sequence
---
Community content is available under
CC-BY-SA
unless otherwise noted.