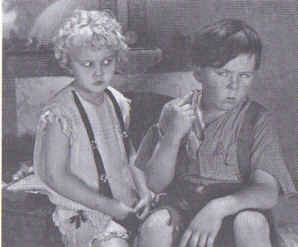 Length: Two Reel
Producer: Hal Roach and Robert F. McGowan
Director: Robert F. McGowan
Photography: Art Lloyd
Editor: Richard Currier
Titles: H. M. Walker
Writer: Robert F. McGowan
Released: April 6, 1929
Studio: M-G-M

Main Cast
Supporting Cast
The Short
Plot: Mary Ann gets a kick out of watching Harry Spear wiggle his ears, but he doesn't really care for her and bullies her around in return. Joe Cobb, however, is very fond of Mary Ann and tries to wiggle his ears lile Harry. When Harry discovers Jean, he charms her with the ear trick, getting Mary Ann to buy them ice cream and push him in his "Rolls-Royce" go-cart. Her little heart is crushed in this predicament. Farina convinces her to dress like a flapper to win Harry back, but he remains uninterested. Wheezer meanwhiles helps Joe to wiggle his ears with some string and gum, winning Mary Ann's heart, but by now, Harry is disillusioned to having Jean in a pretend marriage as she now has him waiting on her like a handservant.
Quotes:
Notes/Trivia:
This short was filmed almost entirely in close-up.

Sequence
---
Community content is available under
CC-BY-SA
unless otherwise noted.