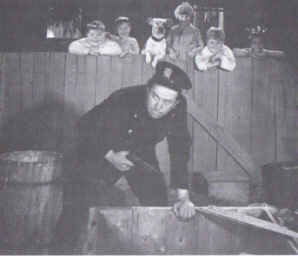 Production Notes
Length: Two Reel
Producer: Robert F. McGowan
Director: James W. Horne
Photography: Art Lloyd
Editor: Richard Currier and H. M. Walker
Titles: None
Writer: Robert F. McGowan
Released: April 5, 1930
Studio: M-G-M

Main Cast
Supporting Cast
Charles McAvoy - Henry, Jackie's Father
Chet Brandenberg - Flustered Man
David Sharpe - Stunt Double for Jackie Cooper
Mary Gordon - Chubby's Mother
The Short
Plot: It's a very windy night and Kennedy The Cop is on duty following Jackie, who's been locked out of the house by Wheezer. Jackie didn't want to study for school, so his father gave him a spanking. Eager to see Jackie spanked again, Wheezer tooses his book out the window. Upon going after it, he gets locked out of the house by the brat. This leaves Jackie wandering around house to house looking for help with Officer Kennedy unknowingly right behind him. Meanwhile, Farina is scared by his kid brother, Hector, covered in flour and looking like a ghost, and then again by Jackie pressing his face against the bedroom window. Jackie eventually finds a ladder and finds refuge in Mary Ann's room, but she's so excited to having him sneaking in that he's better off not staying. Kennedy trails Jackie through the neighborhood until Jackie comes upon a real burglar, inadvertantly knocking him out on his own. Kennedy comes around to take credit for the capture upon which Wheezer answers with a long Bronx cheer.
Quotes:
"I know you love me, but I didn't know you'd spoil your sleep for me." - Mary Ann

Notes/Trivia:
This short was retitled, "Las Fantasmas" (The Phantoms), for release in Spanish-speaking countries. In the Spanish version, Spanish actor, Julian Rivero takes over the role of Jackie's father.

Jackie Cooper later married Director James Horne's daughter, June, in 1944.

Beginning in 1971, King World Productions removed all of Farina's scenes from the television showings of this film. In 2001, most of the television cut scenes were reinstated.

Sequence
---
Community content is available under
CC-BY-SA
unless otherwise noted.