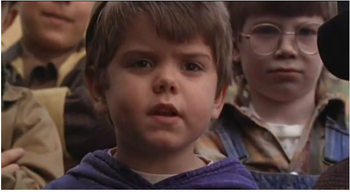 Biography
Character: Spanky McFarland
Birthday: August 19, 1988
Place of Birth: Rockwall, Texas
Date of Death:
Place of Death:
First Short: The Little Rascals (feature film)
Last Short: The Little Rascals (feature film)
Number of Shorts: 1
History: Travis Tedford got his start as a child actor in the 1990s, his face becoming most well-known as the cherubic young tyke in the Welch's TV Commercials. A resident of Garland, Texas (not far from the birthplace of George McFarland, his predecessor), he went on to other films and TV roles after his Rascals experience, graduating Athens High School in 2006 and from Trinity Valley Community College in 2008 with an Associates Degree in the Liberal Arts.

List of Shorts
Other Projects
Slappy and the Stinkers (1998)
A Bug's Life (1998)
The Thirteenth Floor (1999)
The Amanda Show (1999 - 2001)
The Final (2010)
---
Community content is available under
CC-BY-SA
unless otherwise noted.