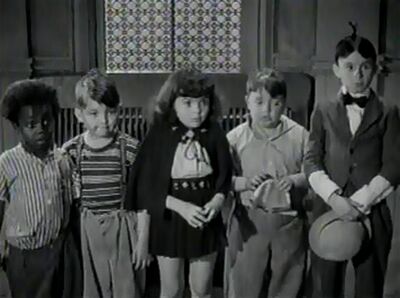 Production Notes
Length: One Reel
Producer: Jack Chertok
Director: George Sidney
Photography: Al Gilks
Editor:
Titles:
Writer: Robert A. McGowan and Hal Law
Released: January 7, 1939
Studio: M-G-M

Main Cast
Supporting Cast
The Short
Plot: Alfalfa can't get his baby brother (last seen as twins in Roamin' Holiday) to stop crying, so he trades him in on a quieter infant which turns out to be Light-Fingered Lester, a midget who masquerades as an infant to pick pockets. Lester then hides from the police in the Switzer Residence where the gang somehow doesn't notice he's not a baby. They figure something is strange when Buckwheat and Porky see him making a phone call to his accomplice Myrtle and catch him drinking beer, and when Alfalfa, Spanky, and Darla question their story, they all see Lester smoking a cigar. The police track Lester down and arrest him with the Rascals as his "mob." Informed by the officers that if they give the police chief,the same story that the "mob" needs to be taught a lesson, the chief gives them a stern warning about trying to decieve Alfalfa's mother with a replacement or any similar stunt or they will be locked up. The gang gladly takes the real baby back when the police chief, called "Mr. Judge" by the gang, gives them the chance.
Quotes:
Notes/Trivia:
This short is basically a rehash of material from Free Eats and Bouncing Babies.

Cinematographer Afred Gilks later won an Academy Award for his color camera work in "An American In Paris."

Jerry Marenghi is better known as Jerry Maren; he played one of the members of the Lollipop Guild in "The Wizard Of Oz." Our Gang member Priscilla Montgomery played an additional Munchkin in that movie, and recurring Hal Roach character actor, Billy Bletcher, dubbed the voice of the Munchkin Mayor.

Sequence
---
Community content is available under
CC-BY-SA
unless otherwise noted.