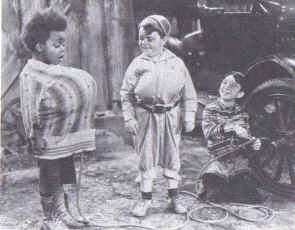 Production Notes
Length: One Reel
Producer: Hal Roach
Director: Gordon Douglas
Photography: Art Lloyd
Editor: William Ziegler
Titles:
Writer: Hal Roach
Released: May 13, 1937
Studio: M-G-M

Main Cast
Supporting Cast
The Short
Plot: Spanky, Alfalfa and Buckwheat are dreading another day of school when they hear that their teacher wants to attend her sister's wedding. Miss Witherspoon, the superintendant of schools, remarks that nothing short of an epidemic would justify closing school down so Spanky decides to create one. He sprays his, Alfalfa's and Buckwheat's faces with spots and inflates footballs under their shirts from the tire of a vehicle in the parking lot. They then march happily not to a local doctor but to the veterinary office of O.T. Hertz who suspiciously decides to check out Buckwheat's affliction, busting the deception in the process. Meanwhile, Hertz's discussion with his assistant over the treament of a monkey convinces Spanky and Alfalfa that the doctor has turned Buckwheat into a monkey. When they can't find Buckwheat, they find a monkey wearing his discarded sweater. Meanwhile, Porky has been trying with futile efforts to deliver a note to Spanky from Waldo. When Spanky finally reads the note, he learns any epidemic, real or otherwise, is not necessary; Miss Witherspoon has given Miss Jones permission for a few days off. Buckwheat now jumps excited from the news from the sack he's been hiding in the whole time.
Memorable Quotes:
Notes/Trivia:
Sequence
---
Community content is available under
CC-BY-SA
unless otherwise noted.