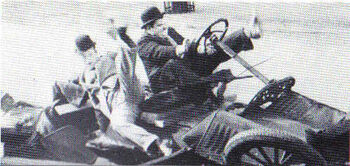 Production Notes
Length: Two Reels
Producer: Pat Casey
Director: William McGann
Photography: Unrevealed
Editor: Unrevealed
Titles: None
Writer: Unrevealed
Released: April 1931
Studio: Paramount and National Screen Service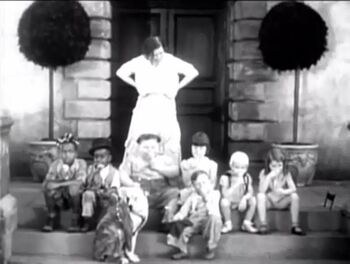 The Rascals
Additional Cast
The Short
Plot: Norma's fine jewels have been stolen, and detective Eddie Kane heads to investigate the burglary driven by Stan Laurel and Oliver Hardy. They arrive in a Ford Model to Norma's house where Farina, Stymie, Chubby, Mary Ann, Shirley Jean, Echo and Wheezer sit on the front stop blocking the entrance and eating ice cream cones. On their approach, the gang scurries off; the car lurches to a stop and falls apart. Eddie rushes inside as Ollie looks over to Stan to complain about the car. Detective Kane continues searching for the jewels throughout Hollywood, asking various celebrities.
Quotes: "I told you not to make that last payment!" - Oliver Hardy
Notes/Trivia:
Sequence
---
Community content is available under
CC-BY-SA
unless otherwise noted.