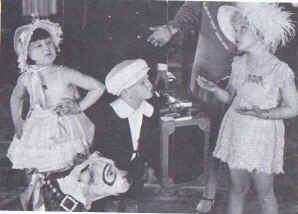 Production Notes
Length: Two Reel
Producer: Hal Roach
Director: Robert F. McGowan
Photography: Art Lloyd
Editor: Richard Currier
Titles: H. M. Walker
Writer: Robert F. McGowan
Released: December 15, 1928
Studio: M-G-M

Main Cast
Supporting Cast
The Short
Plot: Mary Ann and Wheezer are siblings living with their stepmother and stepsister. They jerry-rig a rope-and-pulley device to get chocolate cake placed out of their reach with Pete pulling Mary Ann closer to it, but when he sees the stepmother, he bolts for it and Mary Ann crashes to the floor, splattering him with cake. She gets a spanking as Wheezer dashes into hiding. Confined inside, they try to have a party with the gang over, but their cake is full of alum and the salad has live crabs in it. Father meanwhile comes home to announce he has sold his patent and he's taking Wheezer and Mary Ann out to live with him.
Quotes:
Notes/Trivia:
This short likely inspired the later short, Dogs Is Dogs, which also starred Wheezer .

This was the second Our Gang short with accompanying music and sound from a separate phonograph disc played in tandem with the main film.

It's unsure if the character Jean Darling plays in this short is actually meant to be the same one she played in Barnum & Ringling, Inc. and Crazy House rather than her regular persona as the sister of Joe Cobb.

This Wheezer is likely the same character from Edison, Marconi & Co.
Sequence
---
Community content is available under
CC-BY-SA
unless otherwise noted.