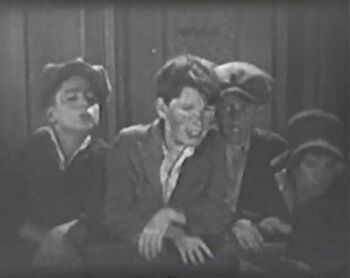 Bio
The Runaways are kids from San Francisco who, according to a title card, are "Headed for Arizona and Europe to see the world." A policeman with a telegram sees them jumping out of a boxcar at the railroad station and contacts their chaperone, Arabella, to take them home. While the policeman and Arabella are talking, the Runaways tell the gang "We're gonna stop off in Mexico an' shoot wild Indians." When Arabella sprains her ankle, she tells her boyfriend Tilford to take the Runaways home in her place. Since Tilford doesn't know them, they manage to switch spots with the gang, and Tilford and the gang ride a train to San Francisco. After a very trying trip, Tilford gets a telegram informing him that he's got the wrong boys and to bring them back.

A second group of kids pull this exact same stunt in Choo-Choo!, resulting in a separate group of Rascals to be temporarily taken out of Greenpoint.

The Runaways were played by Elmo Billings, Gabriel Saienz, and two unknown boys.

Shorts
---
Community content is available under
CC-BY-SA
unless otherwise noted.