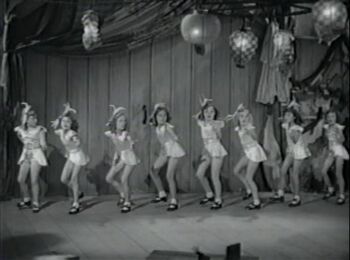 Bio
The Rubenettes were a young female tap-dancing troupe who appear as the members of Mademoiselle Murphy's Dance School in Waldo's Last Stand. Robert DeMoss identifies three more girls than Maltin and Bann even though only eight girls appear with Darla Hood in her number. DeMoss identifies the girls behind Darla as best as he can as Helen Guthrie, Patricia Wheeler, Rae-Nell Laskey, Lavonne Battle, Loree Lee Fox, Shirley Jean Doble, Donna Jean Edmondsen and Jackie Krenk. The other two girls, Maretta Light and Patsy Irish, possibly appear separate from the others in another act within the short.

Lavonne Battle, Shirley Jean Doble and Patricia Wheeler also appear in Melodies Old And New.

Shorts
---
Community content is available under
CC-BY-SA
unless otherwise noted.