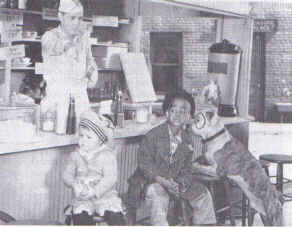 Production Notes
Length: Two Reel
Producer: Robert F. McGowan
Director: Robert F. McGowan
Photography: Art Lloyd
Editor: Richard Currier
Titles: None
Writer: Hal E. Roach
Released: June 11, 1932
Studio: M-G-M

Main Cast
Supporting Cast
Baldwin Cooke - Diner Employee
Budd Fine - Dog Catcher
Dick Gilbert - Dog Pound Employee
Estelle Ettere - First Housewife
Harry Bernard - Police Officer
Lea Artye Folz - Girl In Glasses
May Wallace - Second Housewife
The Short
Plot: Accompanied by Spanky and Pete, Stymie is searching for food, ordering food from a vendor but not having the money to pay for it. The gang's upset with Stymie for stealing a pie, but he gets in their good graces again by freeing their dogs from the dog catcher's truck. He's so upset that he snatches Pete, telling Stymie to bring him five dollars if he wants him back. All Stymie can do is pray for the money from Heaven, and a gust of wind promptly blows the money to him from a woman's hand nearby. A policeman tries to get the money back, chasing Stymie through the area. Once he loses the officer, Stymie rushes to the Greenpoint Dog Pound to discover that the vindictive dog catcher has rushed to gas Pete. At that point, an employee remarks that there's no gas to gas anything. The dog catcher opens the hatch to find Pete waiting patiently inside to come out and get his revenge on the dogcatcher before rejoining Stymie.
Quotes:
Notes/Trivia:
Sequence
---
Community content is available under
CC-BY-SA
unless otherwise noted.