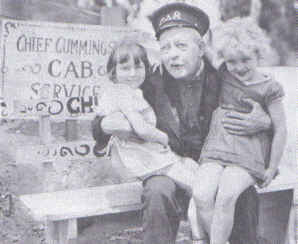 Production Notes
Length: Two Reel
Producer: Robert F. McGowan
Director: Anthony Mack
Photography: Art Lloyd
Editor: Richard Currier
Titles: H. M. Walker
Writer: Robert F. McGowan
Released: October 20, 1928
Studio: M-G-M

Main Cast
Supporting Cast
Charles A. Millfield - Bearded Man
Charles Bachman - Officer Mulligan
Charles King - Male Passenger
Charley Young - Creditor
Ellinor Van Der Veer - Dowager
Mary Gordon - Female Passenger
Richard Cummings - Chief Cummings
Tenen Holtz
The Short
Plot: Chief Cummings retires from the Greenpoint Fire Department and turns to using his faithful horse Duke to pull an open carriage taxi service in town to raise the money to keep his horse. The Rascals are some of his main customers, but when a new hotshot automobile taxi service opens up, he may lose what paying customers he has. The Rascals try to rally him customers while at the same time sabotaging the competition. They route a high-tension wire through the cab, reroute the exhaust into the cab and hang a "Free Rides" sign to perturb the driver. Meanwhile, Wheezer is proving to be a bother and constantly sent off on distractions, such as hatching a crate of chicks. When they see Chief Cummings talking to the driver and Officer Mulligan, they fear the worst and run off with Duke to save him only to discover later that Mulligan loaned Cummings the money to keep the horse. Meanwhile, after telling Wheezer to go jump in the lake, three of the gang members (Farina, Joe, and Harry) rush to stop him, jumping off the bridge after him and landing head-first in mud as Wheezer hangs above them by his suspenders.
Quotes:
"--Me wanna do something--" - Wheezer

Notes/Trivia:
Sequence
---
Community content is available under
CC-BY-SA
unless otherwise noted.