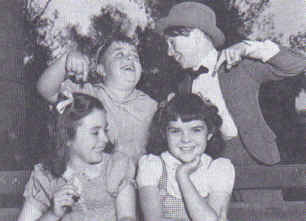 Production Notes
Length: One Reel
Producer: Jack Chertok and Richard Goldstone
Director: Edward Cahn
Photography: Paul Vogel
Editor: Ralph E. Goldstein
Titles:
Writer: Robert A. McGowan and Hal Law
Released: April 27, 1940
Studio: M-G-M

Main Cast
Supporting Cast
The Short
Plot: Sally is a new student at Greenpoint Grammar School. When the teacher introduces her, Alfalfa swoons, but all Mickey Gubitosi can do is shrug. Both Spanky and Alfalfa forget their lunch date with Darla to spend time with her. Considering them pests, Sally tries to join Darla instead, and the two of them plot to teach Spanky and Alfalfa a lesson. Sally invites the boys to her house for a tea party and gets them to wear girls' clothes as Darla brings the gang by to catch the guys in dresses. The embarrassment is painful, but the next day, Spanky and Alfalfa beg for Darla's forgiveness.
Quotes:
"Beauty is only skin deep, but old friends are thicker than water." - Alfalfa

Notes/Trivia:
Sequence
---
Community content is available under
CC-BY-SA
unless otherwise noted.