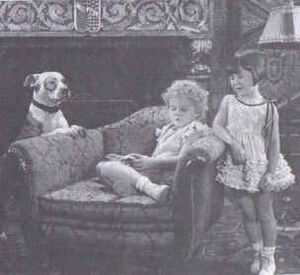 Length: Two Reel
Producer: Hal Roach and Robert F. McGowan
Director: Anthony Mack
Photography: Art Lloyd
Editor: Richard Currier
Titles: H. M. Walker
Writer: Hal Roach
Released: March 9, 1929
Studio: M-G-M

Main Cast
Supporting Cast
The Short
Plot: Mary Ann is being a problem to the other kids. Farina elects Joe Cobb to train and subdue her.
Quotes:
"The story of a little girl who was bad on Monday, naughty on Tuesday and terrible on Wednesday... Thursday they called out the Marines...."- Title Narration

Notes/Trivia:
According to Maltin and Bann, this short is unavailable for screening.

Sequence
---
Community content is available under
CC-BY-SA
unless otherwise noted.