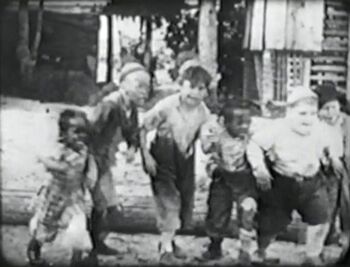 Production Notes
Length: Two Reel
Producer: Hal Roach
Director: Robert F. McGowan
Photography: Art Lloyd
Editor: Richard Currier
Titles: H. M. Walker
Writer: Hal Roach
Released: June 26, 1927
Studio: Pathe Exchange

Main Cast
Supporting Cast
The Short
Plot: Joe Cobb's mother operates a fireworks stand which gives the gang access to all sorts of pranks. Farina is content with just popping shopping bags until a neighborhood kid gives him a quarter to take Pansy off his hands. Farina uses it to buy a sky-rocket which Joe launches and ends up touching down right into the middle of the stand and launching a major explosion of fireworks. The gang flees to the scene of a scientist who has created Bahama-Oil capsules a thousand times more powerful than nitroglycerine. Pansy eats several of the capsules and everyone runs from him, terrified that he will explode, and the Rascals and then the townsfolk repeatedly track up the same patch of fresh cement to the frustration of the man who laid it. Instead, the dog coughs the capsules up one at a time creating mini-explosions everywhere he goes, and the crazed cement layer ends up playing pattycake with the ruined cement.
Quotes:
Notes/Trivia:
Sequence
---
Community content is available under
CC-BY-SA
unless otherwise noted.