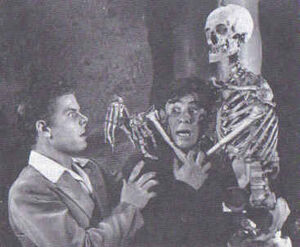 Length: 62 minutes
Producer: Sam Baerwitz and Benjamin Stoloff
Director: Edward L. Cahn
Photography: James S. Brown Jr.
Editor: Alfred DeGaetano and W. Donn Hayes
Titles:
Writer: Robert E. Kent
Released: 1947
Studio: Producers Releasing Corporation

Main Cast (The Gas House Kids)
Supporting Cast
James Burke - Police Lt. Burke
Jan Bryant - Hazel Crawford
Michael Whalen - Lance Carter
Douglas Fowley - Mitch Gordan
Frank Orth - Police Captain
Lyle Latell - Carter's Henchman
Milton Parsons - Prof. Gately Crawford
Kenneth Farrell - Garry Edwards, Hazel's boyfriend
Gene Roth - Policeman
The Short
Plot: The Gas House Kids go to Hollywood, where they become entangled with a mad scientist while attempting to find a lost treasure in a haunted house.

Quotes:
Chimp (Tommy Bond): "Either I got somebody else, or Alfie's got two heads!"

Chimp (after Alfie finishes singing): "Quick, somebody turn on a radio before he sings some more!"
Alfie: "Ahh, wise guy!"
Orvie: "Now remember you guys, no rough stuff when we get to Hollywood. We want Lance Carter to think we're gentlemen".
Chimp: "Ahh, that's a lot of malarkey. In Lance's last picture, didn't he smack the lady murderer right in the kisser with a wet mop?"
Scat: "That's only in pictures, you jerk!"
Alfie: "Yeah, in real life, he'd have hit her with a dry one."

Chimp: "Come on, start tapping."
Alfie: "Okay, but my heart won't be in it."

Chimp: "Gee, imagine grabbin a dead guy by the hair!"
Alfie: "Well, it could be worse."
Chimp: "Yeah..."
Alfie: "Suppose the dead guy got you by the hair?"

Notes/Trivia:
In this film, Carl Switzer sings "Old Kentucky Home" in the same off-key way his old character of Alfalfa would do.
Sequence
Previous Short:
Next Short:
---
Community content is available under
CC-BY-SA
unless otherwise noted.