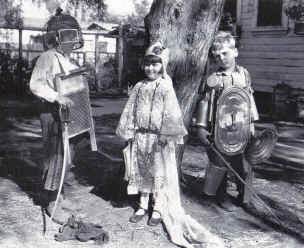 Production Notes
Length: Two Reel
Producer: Robert F. McGowan
Director: Robert F. McGowan
Photography:
Editor: Richard Currier
Titles: None
Writer: Robert F. McGowan
Released: March 1, 1930
Studio: M-G-M

Main Cast
Supporting Cast
Edgar Kennedy - Officer Kennedy
Emma Reed - Farina's Mother
Joy Winthrop - Grandma
Otto Fries - Speck's Father
The Short
Plot: Jackie has eyes for Mary Ann and goes to Officer Kennedy for advice on how to win her heart. His first attempt results in her beating him up, so Kennedy has Jackie court her by dressing up and bringing candy. Unfortunately, Speck Haines enters the picture as a rival for her affection. Mary Ann thinks they should duel for her, and they head off to practice their swordplay, slashing everything in sight before deciding to resort to a fist fight with Mary Ann dressed up as a princess through the whole thing. Though he has Chubby arrange to bring Kennedy to break up the fight, Jackie holds his own in the fight, conquering over Speck, as Mary Ann rushes over to announce she liked him best. Speck is upset that she put him through the fight and punches her in the face. Jack rises to defend Mary, and Speck's dad rushes to protect his son. Jackie's grandma, spry as she is, rushes to the scene, to face off against the upset father, popping him on the nose and kicking him, and forcing him to run away.
Quotes:
"Gee, you're a keen looking chick. Will you marry me?" - Speck Haines

"Uh uh. I wouldn't marry any man." - Mary Ann

"If you're gonna get killed, will you let me have your knife?" - Wheezer
Notes/Trivia:

Some television stations did not show this film in their "Little Rascals" package, possibly due to the sword fight scenes.

Sequence
---
Community content is available under
CC-BY-SA
unless otherwise noted.