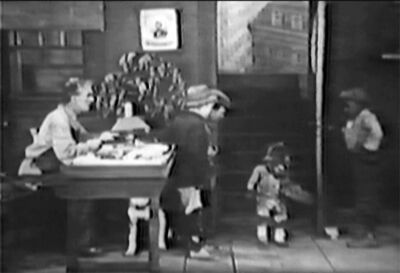 Production Notes
Length: Two Reel
Producer: Hal Roach
Director: Tom McNamara
Photography:
Editor:
Titles: H. M. Walker
Writer: Hal Roach
Released: February 18, 1923
Studio: Pathe Exchange

Main Cast
Supporting Cast
The Short
Plot: The gang is hanging around Tuttle Shoe Repair, one of their favorite hang-out spots. The place is owned by Mr. Tuttle, and he doesn't seem to mind their mischief. One morning as they're hanging around, a limousine comes around, and a nursemaid emerges with Mary Kornman to get Mary's shoes repaired. The boys immediately compete for her attention and she leaves behind a vase of flowers as a gift for their attention. Meanwhile, Mr. Tuttle's back pension has come in and he treats the boys to a picnic out in the country, but his old car doesn't seem to be able to make the trip. It threatens to break down on them before coming to a final stop in an open field. The boys split up in trying to fix it and exploring an old barn, scaring away an itinerant hiding inside. Farina, meanwhile, has discovered a watermelon patch, returning to the broken-down car later with his stomach swollen in size, but it's really a massive watermelon he's trying to hide from the others. They discover it and they all dig in for a nice picnic.
Quotes:
"I'll put some oil on the doojigger." - Jack Davis
"Lookie - Ever see this?" - Mickey
"That ain't nothin' - watch me." - Jack
"Saturday - The "gang" - Every member as harmless as T.N.T" - Title card
"Le's fix the ol' car while he's gone - All it needs is jazz." - Jack
Notes/Trivia:
Continuity-wise, these events would have to occur before Mary, Queen Of Tots when she actually makes friends with the boys and before The Big Show, her actual first appearance with the gang.

Sequence
---
Community content is available under
CC-BY-SA
unless otherwise noted.