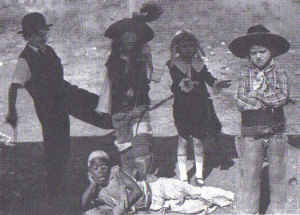 Production Notes
Length: Two Reel
Producer: Hal Roach
Director: Robert F. McGowan
Photography: Len Powers
Editor:
Titles: H. M. Walker
Writer: Hal Roach
Released: February 25, 1923
Studio: Pathe Exchange

Main Cast
Supporting Cast
The Short
Plot: The gang has headed to the county fair for a free look at the festivities. Little Jackie tries to join them, but they push him away because he's too little. Meanwhile, the owner of the DeRues Trained Animal Show sends his overworked employee to exercise two of the horses. He meets the gang and impresses them with the talents of the horses, teaming up with them to throw together their own mini-fair accepting everything from marbles to cigar coupons as tickets. Little Farina acts as their security guard complete with a billy club, occasionally chasing away Jackie. They have exhibits of normal pets disguised as exotic animals, a makeshift dog-powered merry-go-round, a shooting gallery and a telescope. Their main act is themselves impersonating their favorite Silent Film stars. Towards the end of the show, Little Jackie, however, goes through letting all the animals out of their cages, and in the fracas, Mr. DeRues comes round looking for his employee to discipline him, just as one of the dogs breaks loose and comes after him instead.
Quotes:
Notes/Trivia:
Sequence
---
Community content is available under
CC-BY-SA
unless otherwise noted.