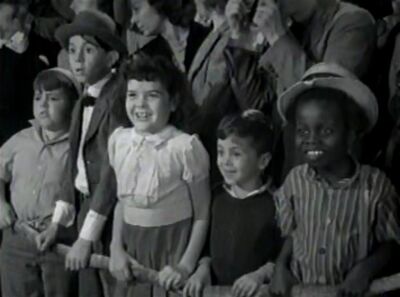 Production Notes
Length: One Reel
Producer: Jack Chertok and Richard Goldstone
Director: Edward Cahn
Photography: Paul Vogel
Editor: Adrienne Fazan
Titles:
Writer: Hal Law and Robert A. McGowan (screenplay)
Released: March 9, 1940
Studio: M-G-M

Main Cast
Supporting Cast
The Short
Plot: A big movie called "Gun Boats" is being released featuring a new star named Imra Acacia, and the Rascals quickly become a nuisance to get on camera and say hello to Waldo. Their antics cause Imra to be splattered in soft cement after she leaves her footprints in concrete, getting chased away from the big Hollywood premiere by a cop. Undeterred, the gang decides to stage one of their own movies at the clubhouse. In their re-enactment of the cement-footprint ceremony before their show, Buckwheat steps into a box of too-wet cement. Encouraged to stand there until it firms up, he gets stuck. The gang's movie, "The Misteeryus Mistry," gets filmed by Waldo using his home-movie camera and shown to the neighborhood kids with the gang reciting their dialogue in person to the silent film. Unfortunately, Waldo runs out of film just as Alfalfa's song begins, so Alfalfa tries to deliver it in person amidst a barrage of eggs being thrown at him.
Quotes:
Notes/Trivia:
Sequence
---
Community content is available under
CC-BY-SA
unless otherwise noted.