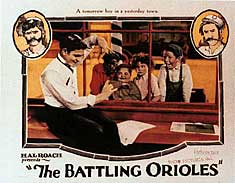 Production Notes
Series: Glenn Tryon Series
Length: Five Reels
Producer: Hal Roach
Director: Fred Guiol, Ted Wilde, Hal Roach, and Bert Currigan (assistant director)
Photography: Floyd Jackman and George Stevens
Editor: T.J. Crizer
Titles: H.M. Walker
Writer: Hal Roach
Released: October 6, 1924
Studio: Pathé Exchange

Rascals
Main Cast
Glenn Tryon - Tommy Roosevelt Tucker
Blanche Mehaffey - Hope Santon
John T. Prince - 'Cappy' Wolfe
Noah Young - Sid Stanton
Sam Lufkin - Jimmy
Robert Page - Inspector Joslin
The Short
Plot: Tommy Roosevelt Tucker (Glenn Tryon) is a young barber. Tommy's girlfriend Hope (Blanche Mehaffey) goes to live with her Uncle Sid (Noah Young) in New York City. Sid is a shady nightclub owner who plans to get Hope involved in his criminal acts. New York City baseball team the Orioles hire Tommy to act as their mascot, which means Tommy will be moving to New York and possibly see Hope again. Later, Tommy finds out that Sid and his gang are holding Hope prisoner. In order to save her, Tommy enlists the help of his former baseball playing father and the Orioles.
Rascals Ernie Morrison, Jackie Condon, Mickey Daniels, and Joe Cobb have a brief cameo.

Quotes:
Note/Trivia:
One of the few feature films (that did not star Harold Lloyd) Hal Roach produced during the silent era. It was also one of two feature films actor Glenn Tryon did for the studio (the other being 1924's The White Sheep). It is believed that both films were initially intended for Lloyd.

In this film, the Orioles are a New York City baseball team. In reality, they are a Baltimore team.

Sequence
---
Community content is available under
CC-BY-SA
unless otherwise noted.