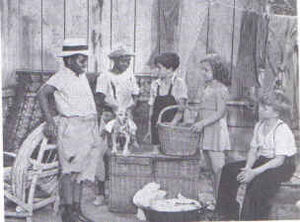 Length: One Reel
Producer: Metro-Goldwyn-Mayer
Director: Cyril Endfield
Photography: Charles Salerno Jr.
Editor: Leon Bourgeau
Titles:
Writer: Robert A. McGowan and Hal Law
Released: April 15, 1944
Studio: M-G-M

Main Cast
Supporting Cast
Anita Bolster - Second Gossip
Dorothy Neumann
Emmett Vogan - Dr. Parkson
Fern Emmett - Third Gossip
Margaret Bert - First Gossip
Willa Pearl Curtis - Buckwheat's Mother
The Short
Plot: Buckwheat runs into his best friend, Big Shot, who wants to offer a dog named Smallpox to the gang, but Mickey, Froggy and Janet eavesdrop and jump to the conclusion that they want to spread smallpox through the gang, not knowing it's actually the name of a dog. Froggy reports the case to the Greenpoint Board Of Health who track down Buckwheat and after a lot of misunderstanding learn the truth about the dog. The mayor gives the kids a stern lecture on inciting a panic and recommends renaming the dog, which they do, giving the pet the new name "Spotty."
Quotes:
Notes/Trivia:
Actor Emmett Vogan previously played Ken's father in Unexpected Riches.

Actress Fern Emmett previously played a dental patient in Radio Bugs.

Since Dancing Romeo was the last official Our Gang short in the series, this short was instead released as a M-G-M Miniature.
The closing "gag" involves the dog talking with an animation trick.

Sequence
---
Community content is available under
CC-BY-SA
unless otherwise noted.