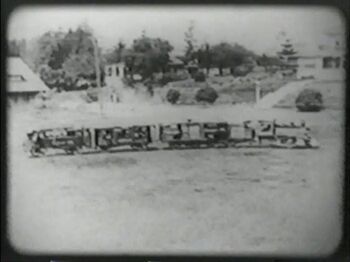 Bio
The Sun Down Limited Train is the creation of Mickey Daniels and Joe Cobb. They get the idea to build it after local neighborhood bully, Toughy, kicks them off of his dog-pulled train. Mickey and Joe's creation is a much bigger, much grander version, enough to put Toughy's to shame. It is built from the remains of a large boiler tank atop an old wheel frame, pots, cans and barrels to fill out the shape of the larger steam locomotives. It is dog-powered with a pulley system to get Mickey's dog, Joe, to chase alternate cats to go forward or reverse. Smoke and steam is simulated by blowing flour, although Mickey also uses it to blast Joe and Farina. It has running boards, its own imitation coal car, and it's big enough to carry four kids with the addition of three big cars large enough to carry almost fifteen additional kids with Farina acting as conductor. The numbers on the front are a license place numbered 474 131 and the side numbers are 1344 Pacific with an additional I-467-276 license plate on the roof of the engine. It runs on a deserted piece of track in a vacant lot in view of several local residences and looks as if it took at least a week to build. Beyond the train itself is a kiddie union depot with kids carrying suitcases, kids acting as baggage men, another kid running a kiddie taxi service, a mail bag deliverer and a water tower to send water down to Mickey's dog to drink. There's also a sleeping car where Farina dusts the feet of sleeping kids.
When Toughy gets a look at the vast enterprise, he's stunned by the size of it. Mary Kornman, having taken rides on his rinky-dink contraption, leaves him to ride on Mickey's train. Wadell Carter also heads over to sugarcoat Joe into letting her ride, the two of them discovering Mary already hidden on board. Spurned by the girls, Toughy and his unidentified cohort try to sabotage Mickey by putting a crate on the tracks which stops the Sun Down Limited but doesn't derail it. When Mickey and Joe clean and inspect the damage, Toughy and his sidekick unhook the cars from the coal car and Mickey and Joe go around and slam into the back of their own caboose. By time they get the two halves connected, Toughy and his partner have dismantled part of the tracks, sending the Sun Down Limited packed with kids on a joy ride through town. The Greenpoint Police Department can't even stop it, they get dragged along by it before it rolls down a hill and flips over sideways. The other kids having jumped free, Farina is the only one to ride it to the bottom and he emerges seeing stars.

Inventors
Shorts
---
Community content is available under
CC-BY-SA
unless otherwise noted.