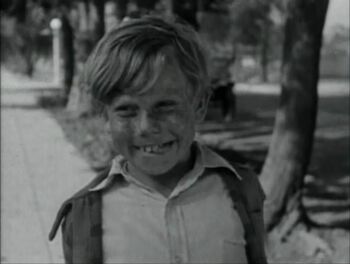 Profile
Name: Donald Haines
Nick Name: Speck, Toughey
Played By: Donald Haines
Born: 1923
Relatives: Father (name unrevealed)
Clubs: None
First Short: Shivering Shakespeare
Last Short: Fish Hooky

Character
Bio: Donald "Speck" Haines is one of the students at Adams Street Grammar School along with Farina Hoskins and Jackie, two of the boys he runs around with in the neighborhood. They don't call him "Speck" very often, only when he wears his required glasses. He plays baseball with them whenever Wheezer isn't trying to sell Jack's stuff in Bargain Day and buys his homework assignments from Bonedust Young in School's Out, an act that lands him in a bit of trouble over a history lesson. He also lives through Breezy Brisbane's efforts to get expelled from school in Readin' And Writin'.
Donald and the gang are often looked over by Kennedy the Cop, and Kennedy's wife, Funston Evergreen Kennedy, invites them to be her guests for the Golden Age Dramatic League to learn Shakespeare in Shivering Shakespeare. During another fashionable party in Free Eats, Donald and the gang encounter midget thieves trying to burglarize the premises.
Donald develops an infatuation for Mary Ann in The First Seven Years, but he loses her in a fight to Jackie. In A Lad An' A Lamp, he develops a reputation as a bully and is nicknamed "Toughey." Whether this has anything to do with his subsequent disappearance from the neighbohood afterward is unrevealed.
Quotes:
Notes/Trivia
---
Community content is available under
CC-BY-SA
unless otherwise noted.