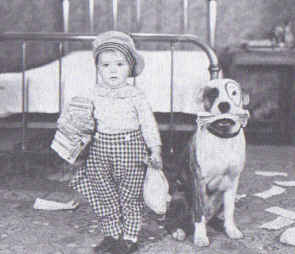 Production
Length: Two Reel
Producer: Robert F. McGowan
Director: Robert F. McGowan
Photography: Art Lloyd
Editor: Richard Currier
Titles: None
Writer: Hal Roach
Released: February 11, 1932
Studio: M-G-M

Main Cast
Supporting Cast
The Short
Breezy Brisbane is using the barn on the property of his home to put on a production of Uncle Tom's Cabin, but his parents have also assigned him to watch over his little brother, Spanky. Having to race back and forth after the precocious kid between takes affects the play, already hampered by production problems, and to make things worse, Spanky keeps finding more things to call attention to himself and appeal to his attention, such as killing the bugs in the house. Pounding the walls results in him finding the hidden stash in the wall where his cheap father has hidden his inheritance from his grandfather. Not knowing what it is, he starts tossing it all out the window, which is the final nail on the casket for Brisbane's suffering play. The boys' father has now come home to discover the kids diving into and grabbing up the free cash and rushes to save it. Some of the kids give back what they have collected, but having learned his lesson, he decides to put it in the bank away from little hands. Stymie, meanwhile, is trapped in the abandoned barn as a platform he is on is pulled up and down by a goat trying to catch him.
Quotes:
"If the bugs can't live on what we live on, let 'em starve to death!" - Spanky's father
"I'm bug huntin'!" - Spanky
"Says you?" - Spanky
"Oh yeah?" - Spanky
"Oh yeah!" - Breezy Brisbane

Notes/Trivia
This short was made as a counter to Paramount Picture's movie, "Skippy," which starred former Rascal Jackie Cooper.

This short was adjusted at the last minute to accommodate George McFarland's screen test as Spanky. Otherwise, it was going to be a straight remake of Uncle Tom's Cabin.

Although George McFarland admittedly had no memory of doing many of his early Our Gang shorts, he did have memories of making this one, including using the rubber hammer, Robert McGowan's direction and repeating his father's propensity for swearing.

Spanky's father, Billy Gilbert, in this short, bears no similarity to the fathers he later had played by Emerson Treacy and Johnny Arthur.
The syndicated versions of this short focus almost entirely on Spanky, almost completely editing out Brisbane's play from the short.
Sequence
---
Community content is available under
CC-BY-SA
unless otherwise noted.