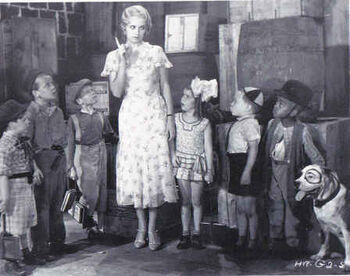 Production Notes
Length: Two Reel
Producer: Hal Roach and Robert F. McGowan
Director: Robert F. McGowan
Photography: Art Lloyd
Editor: Richard Currier
Titles:
Writer: Hal Roach
Released: October 10, 1931
Studio: M-G-M

Main Cast
Supporting Cast
The Short
Plot: The gang has been playing hooky and skipping school to go visit the Sea Captain and listen to his old tall tales from the ocean. When Miss Crabtree gets frustrated by these absentees, she visits the captain to get his help in chasing the kids back to school and, together, they plot a scheme to scare the gang straight. When they return, the captain makes the kids think the is taking them out to sea as pirates (the boat actually never leaves the dock) with the purpose of scaring them out of their minds. He hires his crew to act as pirates in an attempt to even further scare the kids. Sure enough, the scheme the school teacher and captain have cooked up works.
Quotes:
Notes/Trivia:
Sequence
---
Community content is available under
CC-BY-SA
unless otherwise noted.