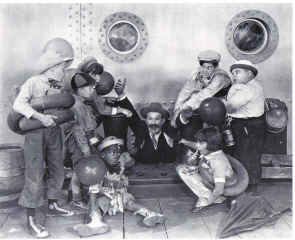 Production Notes
Length: Two Reel
Producer: Hal Roach
Director: Robert F. McGowan
Photography: Art Lloyd
Editor: Richard Currier
Titles: H.M. Walker
Writer: Hal Roach
Released: February 27, 1927
Studio: Pathe Exchange

Main Cast
Supporting Cast
The Short
Plot: Mr. Finlayson, the gang's teacher, has his heart set on a trip to Europe through a contest sponsored by the local newspaper. He doesn't count on the gang tagging along with him to turn his nice trip into a hectic and stressed-out sightseeing tour through Naples, Pompeii, Rome, Venice and London. The sites they see are the Roman Colisseum, the Vatican, the ruins of Pompeii, the canals of Venice, Notre Dame and Napoleon's Tomb. Along the way, Farina nearly falls into Mount Vesuvius, and the gang try fishing in the Venice Canals. In Paris, they take an elevator ride up the Eiffel Tower, where Farina climbs out on to a board and falls off with Mr. Finlayson hanging on to him. That's just when the mustached teacher wakes up from his vivid dream, induced by a prankster who put sleeping potion into his drinking water.
Quotes:
Notes/Trivia:
Sequence
---
Community content is available under
CC-BY-SA
unless otherwise noted.