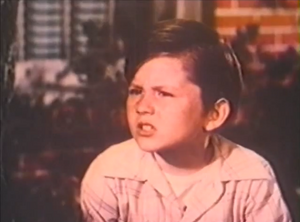 Profile
Name: Sandy
Nickname:
Played By: Billy Gray
Born: 1938
Relatives:
First Short: Curley
Last Short: Curley

Character
Bio: Sandy is a member of Curley Benson's gang. In Curley, he attends Lakeview School, and helps Curley get rid of Miss Johnson, the new schoolteacher, by bringing sneezing powder to pull out on the classroom. But after Curley accidentally spills the beans about the gang's pranks to her, Miss Johnson embarrasses Sandy in front of the class by taking the sneezing powder away from him. Miss Johnson further embarrasses Sandy for a crude portrait of her that he drew on the chalkboard. While having Sandy erase it, she also convinces him to try his hands at artwork, by copying a picture of Specks that she drew. Sandy later ditches Curley when he finds out about his pal's carelessness in letting Miss Johnson know about the gang's pranks. Sandy has a love for baseball, and even gets some batting tips from his new teacher.

Quotes:
Trivia
---
Community content is available under
CC-BY-SA
unless otherwise noted.