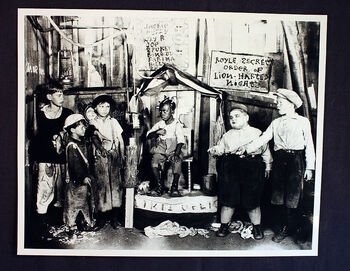 Bio
The Royle Secret Order Of Lion-Harted Nights is one of the short-lived clubs in the history of the Rascals. Despite the attention to the club's name, they meet in a clubhouse known only as "Our Shack." Jackie appears to be the leader as he opens the huge padlock to the shack, and suggests at a meeting discussing what to do about the bully Tuffy to draw marbles from a box to decide who will deal with him. Joe and Farina draw the black marbles and prepare to fight Tuffy. However, when Peggy tells them Tuffy went to Chicago, Joe and Farina return to the clubhouse and concoct a wild tale of how they beat up Tuffy and rolled his body into Coogan Lake. Billy Naylor finally tells them all that Tuffy has been murdered, Joe and Farina go on the run before Tuffy is found alive and the story straightened out.
A list of names of the members is shown, and it includes "Spukey," a character never seen and is spelled "Spuky" on Tuffy's list of kids he's gonna lick.
Members: Billy Naylor, Bonedust, Farina, Jackie Condon, Joe Cobb, Scooter Lowry, Jay R. Smith, Spukey.
Shorts
---
Community content is available under
CC-BY-SA
unless otherwise noted.