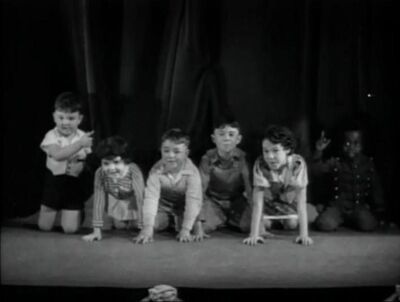 Production Notes
Length: One Reel
Producer: Hal Roach
Director: Gordon Douglas
Photography: Art Lloyd
Editor: William Ziegler
Titles: None
Writer:
Released: January 9, 1937
Studio: M-G-M

Main Cast
Supporting Cast
Barbara Bletcher
Elaine Merk
Ernie Alexander - Band Leader
The Short
Plot: There's a reunion at Adams Street Grammar School for alumni, and the Rascals are part of a show to honor them. It starts with original and former Rascals at a long table sitting side-by-side with their young successors. Miss Jones introduces Mickey Daniels, the 1932 Class President, to make a speech. When he refers to himself as how far he's come, the band makes a noise Mickey thinks is a form of derision, but it's just the start of the younger kids' stage show. The first act, "The Toy Store At Midnight," depicts two toy dolls coming to life. Darla sings "Baby Face" to Porky, and in "The Gay White Way," Spanky with a chorus of boys in top hats with girl partners dance and sing "Broadway Rhythm." Buckwheat is around to announce the acts on cards, but Spanky tapes his mouth shut to keep from slowing down the show with a recitation of "Little Jack Horner." The last sequence, "Hopeless Love," is an act with Georgia walking out on Alfalfa singing "I'm Through With Love." The finale is a rendition of the entire gang singing, "Auld Lang Syne."
Quotes:
"When I first came to this school, I was nothing but a bashful freckled-faced boy, (but) look at me now!" - Mickey Daniels
 
Notes/Trivia:
An early press release originally identified the short as "Our Gang Follies of 1937." 
At the time of this short, Mary Kornman and Mickey Daniels had not been seen in the series since Fish Hooky. Joseph Cobb had been in Pay As You Exit a few months earlier. Matthew Beard had not been seen since Teacher's Beau just two years earlier.
The fact that Mickey, Mary, Joe and Matthew appear as graduates for a school they couldn't have attended would suggest that Spanky and Alfalfa's school was built on the site of the one-room schoolhouse of the earlier shorts.
 
Sequence
---