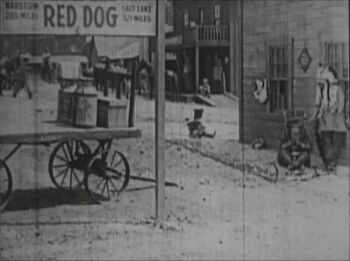 Biography
Red Dog is a town somewhere on the train route probably three "days on the California Limited" away from Greenpoint. The Rascals end up there to explore the old dilapidated structures and play "Cowboys and Indians," but they end up running into criminals, two of whom break the other one out of jail immediately after he is locked up. During an ensuing gunfight the Rascals hide in a covered wagon, which turns out to belong to the two accomplices. After reaching their hideout, the Whistling Clam Rancho, the three crooks take the Rascals captive, but by the time the authorities arrive, the situation is reversed. Farina also ends up getting briefly "adopted" by a local Native American tribe, the "Glucose Indians," in the area.
Red Dog has an elevation of 4,000 feet and is located 265 miles from Barstow (California) and 321 miles from Salt Lake (Utah), which should place it in southeastern Nevada.
Shorts
---
Community content is available under
CC-BY-SA
unless otherwise noted.