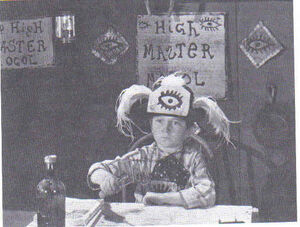 Production Notes
Length: Two Reel
Producer: Robert F. McGowan
Director: Robert F. McGowan
Photography: Art Lloyd
Editor: Richard Currier
Titles: None
Writer: Robert F. McGowan
Released: February 2, 1932
Studio: M-G-M

Main Cast
Supporting Cast
Harry Bernard - Fruit Vendor
Lyle Tayo - Brisbane's mother
Mary Wallace - Wheezer's mother
Otto Fries - The Blacksmith
The Short
Plot: Summer vacation is over and all the kids in Greenpoint are hesitantly returning to school. Among them, Breezy Brisbane is the most hesitant. His loving mother sends him off and tells him to study hard for a good job, but he decides to slack on by and aim lower. He stalls for time by hanging around the local Blacksmith, but then he leans on Brisbane to be a better student as well. When the Blancksmith tells about a miscreant who got himself tossed out of school, Brisbane takes the idea to heart and decides to be as incorrigible as possible to get himself thrown out of school. He sets off a tirade of practical jokes and distractions set to frustrate Miss Crabtree, but when he mocks Sherwood for reading a poem written by his mother, she is more than glad to exile him from school unless he recites the poem as well. Brisbane is more than anxious to be tossed out and leaves with an unsupportive arms-raised triumphant victory. However, once he gets out, he realizes there's just nothing to do but wait for his friends to get out of school. There's no one to attend his club and fishing is so tedious he can't stand it. The whole time, his conscience is bothering him and nagging him to learn the poem. When Breezy finally breaks down and returns to school to apologize, he begs the teacher to not let the other kids ridicule by his reading Sherwood's poem aloud to the class, but that's her punishment for his attitude. As Breezy recites the embarrassing poem verse word-for-word, tears are streaming down his face, for his comeuppence as the other kids laugh at him. Fortunately for Breezy (and not so for everyone else!), Marmalade chases a skunk into the schoolhouse, mistaking it for a cat, causing everyone to run away!
Quotes:
Notes/Trivia:

Sequence
---
Community content is available under
CC-BY-SA
unless otherwise noted.