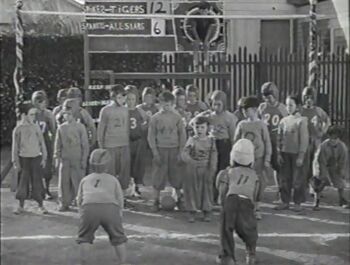 Bio
The Rascals Football Team is an informal football team with a very rotating cast of teammates, known early on as the "Dugans Alley Football Team" in No Noise and some years later as "Spanky's All-Stars" in The Pigskin Palooka. They will try to get out of anything, including babysitting their siblings, to play in the game. They play the game at Dooley Flats and in the vacant lot across the street from Grandma Mack's house. Among the teams they play are the Goose Alley Juniors, Butch's Assassins, and Spike's Tigers, and some of the members of these teams like Butch and The Woim once played with the Rascals. At various times, the off-field personnel includes Corky as referee, Cullen Johnson as scorekeeper, Junior as timekeeper and Jean and Jane as nurses.
Among the other games they play are baseball, golf, boxing, wrestling and war.

Roll Call: Alfalfa Switzer, Alvin, Andy Samuel, Barry Downing, Billy Lee Wolfstone, Buckwheat Thomas, Bobby Winckler, Charlie Flickinger, Daniel Boone, Dickie Jones, Dickie De Nuet, Donald Proffitt, Ernie Morrison, Farina Hoskins, Gene Reynolds, Hal Law, Jr., Harry Spear, Hugh Chapman, Jack Davis, Jackie Condon, Jay R. Smith, Jerry Tucker, Joe Cobb,Joe Levine, Johnny Aber, Leonard Kibrick, Leonard Landy, Mickey Daniels, Mickey Gubitosi, Paul Hilton, Paul Toien, Porky, Scotty Beckett, Sidney, Slim, Spanky McFarland (player and former referee), Stymie Beard, Tommie, Tommy "Butch" Bond, Uh-Huh Collum, Wally Albright.
Shorts
---
Community content is available under
CC-BY-SA
unless otherwise noted.