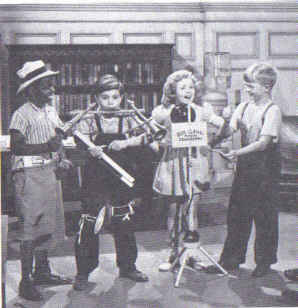 Length: One Reel
Producer: Metro-Goldwyn-Mayer
Director: Cyril Endfield
Photography: Walter Lundin
Editor: Leon Bourgeau
Titles:
Writer: Robert A. McGowan and Hal Law
Released: April 1, 1944
Studio: M-G-M

Main Cast
Supporting Cast
Brandon Hurst - Actor
Charles K. French - Banker (deleted scene}
Chester Clute - Dental Patient
Erville Anderson - Mortician
Fern Emmett - Dental Patient
Jack Lipson - Dental Patient
Joe Yule Sr. - Dental Patient
Morris Ankrum - Dr. Kilroy
Pete Sosso - Mr. Jasper
Red Skelton - Radio Voice-Over
Robert Burns - Crowd Extra
Tiny Hanlon -Radio Host
Walter Soderling - Mortician
The Short
Plot: Froggy has been listening to comedian Red Skelton on the radio and is inspired to become a comedian himself. The Rascals rally to help him by buying a joke book and auditioning at the dentist's office to attract a sponsor, but their noisy performance gets them tossed out of the office. A Shakespearean actor convinces them to drop comedy in favor of drama, but their act at the funeral home gets nothing but laughs. Distraught and confused, they wander back for home if but to stumble into a radio interview on the street. When asked what is needed on the radio, they all respond with the same answer, "a sponsor!"
Quotes:
Notes/Trivia:
The working title for this short was "The Human Tragedy."

The dentist's full name on his office door is "Pain-Killer" Kilroy.

Janet's podium in the dentist's office bills them as "Our Gang Radio Comedians"..

Actor Joe Yule Sr. is the father of comedian/actor Mickey Rooney.

Sequence
---
Community content is available under
CC-BY-SA
unless otherwise noted.