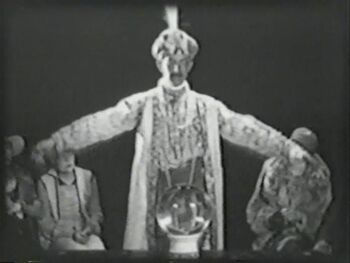 Bio
Professor Fleece is a local charlatan and con-man posing as a Spiritualist to defraud older women of their money. He lives in a large castle-like mansion with high ceilings that has been jerry-rigged with special effects devices. Along with cronies in costumes, he creates phony seances to decieve the local ladies who come to him with their belief in Spiritualism. Unfortunately, the house is close to the field where the Rascals play baseball and their secret cave hideout. When they end up tunneling into his house through a secret panel from the cave, Fleece and his crew scare the rascals for quite some time before they end up busting his scam and turning him over to the Greenpoint Police Department.

Professor Fleece was played by George B. French.

Shorts
---
Community content is available under
CC-BY-SA
unless otherwise noted.