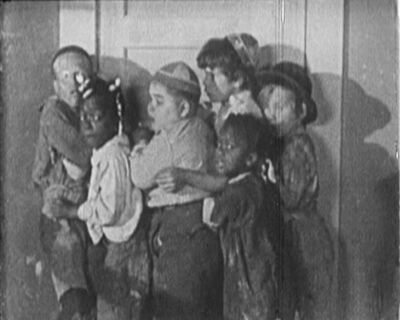 Production Notes
Length: Two Reel
Producer: Hal Roach
Director: Anthony Mack
Photography:
Editor:
Titles: H. M. Walker
Writer:
Released: January 1, 1928
Studio: Pathe Exchange

Main Cast
Supporting Cast
The Short
Plot: Wheezer gets excited watching his dog Pansy attack and rip apart the chickens and furniture in the back yard. His mother is upset, and his father takes his rifle to shoot the dog. Meanwhile, Joe Cobb has taught Pansy to play dead, and after the deed is done, he wants to hide the dog at Farina and Zuccini's house. Farina refuses, claiming the dog eats too much. Meanwhile, a movie with police shooting at criminals is being filmed on the street, and they need a trained dog. Joe and Pansy ride with the film crew, leaving the rest of the gang to sneak into the studio, disrupting Pansy's big scene and then leading the carnage across the other sets being filmed. The police and several actors in animal costumes chase the gang all over the set, and periodically several of them run through a door and drop several feet into water. Eventually, the gang takes refuge during a great pie fight, using the pastries filled with gunpowder to defend themselves along with a big wind machine before finally getting captured and thrown over a wall.
Quotes:
Notes/Trivia:
Sequence
---
Community content is available under
CC-BY-SA
unless otherwise noted.