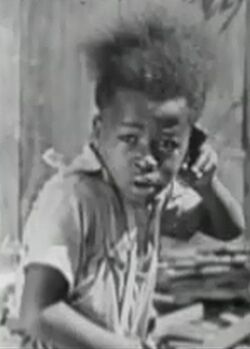 Profile
Name: Eugene "Gene" (Jackson) (Hoskins)
Nicknames: Pineapple, Snowball (in The Mysterious Mystery! )
Played By: Eugene Jackson
Born: 1916
Relatives: Farina (brother)
Clubs: None
First Short: The Mysterious Mystery!
Last Short: Shootin' Injuns

Character
Bio: Not much is known about Pineapple. So named because his hair comes out of the top of his head like the leaves of a pineapple, he is revealed as Farina's older brother after they both get "speckled fever" and will both be out of school for six weeks at the same time the circus is in town in Circus Fever. When he's not stuck at home or in school, Pineapple earns pennies as a page for the local beauty salon, which the gang explores during their visit. When they get locked in a boxcar at the railroad yard, Pineapple and the others get an unexpected trip to New York City to see the sights. He and Farina also own a dog in Dog Days.
Quotes:
"Lissen, Hawk-eye -- They's callin' us!" - Pineapple (as Snowball) in The Mysterious Mystery

"Ah got speckle fever - We kaint go to school fo' six weeks." - Pineapple (as Gene) in Circus Fever

"Ah works me down in the beauty shop - We makes people look like what they ain't." - Pineapple in The Love Bug

Notes/Trivia
---
Community content is available under
CC-BY-SA
unless otherwise noted.