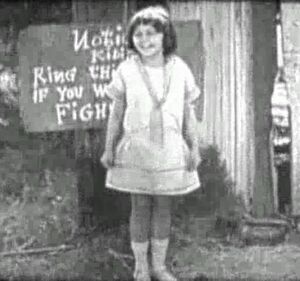 Profile
Nickname:
Played By: Peggy Eames
Born:
Relatives:
Clubs: Manhattan Club
First Short: Uncle Tom's Uncle
Last Short: Tired Business Men

Character
Peggy Eames is one of the peripheral gang members, usually appearing when the gang is present in large numbers, such as one of the schoolchildren in Seeing The World. She causes some mischief by telling Joe and Farina that Tuffy moved to Chicago when he hadn't, which leads the two boys to brag to the gang that they did away with Tuffy, only to come under suspicion of murder when he turns up missing. She should not be confused with Peggy Cartwright, Peggy Ahearn, or Peggy Lynch.

Quotes:
"He isn't in town no more - He's left for Chicago - He needed more room." - Peggy, talking about Tuffy, in Telling Whoppers

Notes/Trivia
None

---
Community content is available under
CC-BY-SA
unless otherwise noted.