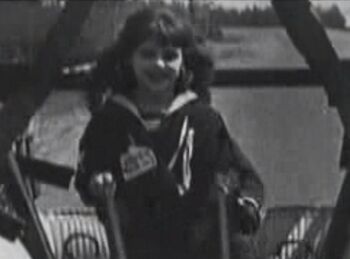 Profile
Name: Mary Jane "Peggy" Cartwright
Nick Name: None
Played By: Peggy Cartwright (actress)
Born: 1912
Relatives: None
Clubs: Goat Alley Fire Department
First Short: Our Gang (unconfirmed, otherwise Fire Fighters)
Last Short: A Quiet Street

Character
Bio: Peggy Cartwright was the original very first darling of the Little Rascals, even before Mary Kornman. In the firefighting team with Jackie Condon and Ernie Morrison, she drives their fire wagon and is in charge of their wireless station in their made-over club house in Fire Fighters and Ernie bases his story of a kidnapped heiress on her in Young Sherlocks. In One Terrible Day, it's revealed that Peggy lives on a farm outside of town, and that Ernie often calls her "sis."
Peggy's character name is "Mary Jane" according to a title card in Young Sherlocks, but "Peggy Cartwright" appears on the kidnapper's chalkboard. This character should not be confused with the Mary Jane played by Anna Mae Bilson.

Quotes: None

Notes/Trivia
---
Community content is available under
CC-BY-SA
unless otherwise noted.