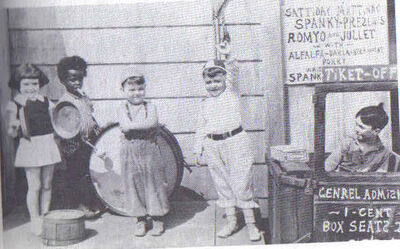 Production Notes
Length: One Reel
Producer: Hal Roach
Director: Gordon Douglas
Photography: Walter Lunden
Editor: William Ziegler
Titles: None
Writer: Unrevealed
Released: October 24, 1936
Studio: Hal Roach Studios/MGM

Main Cast
Supporting Cast
The Short
Plot: Spanky and the gang are putting on a matinee based on William Shakespeare's Romeo and Juliet with Alfalfa and Darla in the title roles, but the neighborhood kids just aren't interested. Alfalfa promises the kids that they can pay on the way out after they have seen the show. Spanky doesn't like the idea. To complicate things more, Alfalfa has been chewing on onions and Darla walks out in the middle of the show, leaving Spanky to put on a small brief side act of lifting weights. The weights as well as the sound of them hitting the stage are fake as Porky reveals. Darla meanwhile has been replaced by Buckwheat, who everyone from the area seems to know. As things start looking optimistic, Alfalfa loses his balance on the ladder which starts wobbling. Leaning from the balcony, Buckwheat just manages to grab Alfalfa's outstretched hand and pull him to safety temporarily. They continue the scene with Buckwheat holding onto the ladder, but soon he is also overcome by Alfalfa's onion breath and lets go, which causes Alfalfa to wobble some more and then finally fall through the curtain which Spanky lowered. Spanky is upset as everyone gets up and heads out thinking they haven't made any money, but Alfalfa smiles triumphantly because everyone did pay in that split second before leaving.
Quotes:
Notes/Trivia:
Sequence
---
Community content is available under
CC-BY-SA
unless otherwise noted.