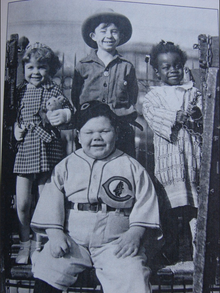 Biography
Character: Unknown
Birthday: February 22, 1920
Place of Birth: Chicago, Illinois
Date of Death: December 22, 2007
Place of Death: Mattoon, Illinois
First Short: Alone Alas!
Last Short: Alone Alas!
Number of Shorts: 1
History: Paul Dominick was a mascot for the Chicago Cubs, and nearly became a member of the Our Gang troupe in the mid-1930s. He was raised on Racine Avenue in Chicago, just one block over from Wrigley Field. One summer, Paul began sneaking into the stadium to watch the Cubs practice. The team began seeing a significant increase in game wins, and saw young Paul as their "Lucky Charm." He soon became the team's mascot, and his recognition led him to an audition at the Hal Roach Studios as the series' next Joe Cobb. Paul was set to join the Rascals for a feature film, Alone Alas! The film was never produced, reportedly due to Roach's unsatisfactory with the script. It was soon decided that Paul was too old for the cast, and he was quietly let go before appearing in any film. He died on December 22, 2007 at the Mattoon Health Care Center in his home state.
List of Shorts
Other Projects
---
Community content is available under
CC-BY-SA
unless otherwise noted.