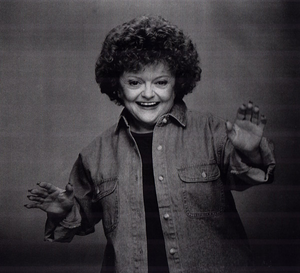 Biography
Character: Darla Hood
Birthday: March 17, 1936
Place of Birth: Perkinsville, New York
Date of Death:
Place of Death:
First Short: The Little Rascals (animated series)
Last Short: The Little Rascals (animated series)
Number of Shorts:
History: Patty Maloney is an American actress and dancer. She provided the voice for Darla Hood in Hanna-Barbera's animated adaptation of Our Gang. Maloney also occasionally worked as a costume performer in television puppet shows.

List of Shorts
Other Projects
Don't Be Afraid of the Dark (1973)
Far Out Space Nuts (1975)
Donny & Marie (1976)
Charlie's Angels (1977)
Lord of the Rings (1978)
The Star Wars Holiday Special (1978)
The Love Boat (1978)
Buck Rogers in the 25th Century (1979)
Smurfs (1981)
Little House on the Prairie (1982)
Welcome to Pooh Corner (1983)
Pryor's Place (1984)
Dumbo's Circus (1985)
Zoobilee Zoo (1986)
Scooby-Doo and the Ghoul School (1988) - with Scott Menville
Ernest Saves Christmas (1988)
Short Ribbs (1989) - with Jerry Maren
Married with Children (1990)
The Addams Family (1991)
Star Trek: Voyager (1996)
The New Batman Adventures (1997)
My Name is Earl (2005)
Hanlet: Episode 4½ – Attack of the Phantom Special (2011)
---
Community content is available under
CC-BY-SA
unless otherwise noted.