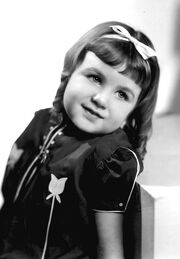 Biography
Character: Baby Patsy
Birthday: March 20, 1934
Place of Birth: Gosport, Indiana
Date of Death: January 1, 2013
Place of Death: Smithfield, North Carolina
First Short: Little Papa
Last Short: Our Gang Follies Of 1938
Number of Shorts: 5
History: Not much is known about Patsy Doris Mae Dittemore. She was originally "Patsy Mae," but her mother died when she was nineteen days old and she was taken in by her maternal grandparents who gave her their name "Dittemore." Maltin and Bann reported in their book that she had divorced her husband (sometime around 1992). She died on January 1, 2013 in Smithfield, North Carolina. She was cremated.
List of Shorts
Other Projects
---