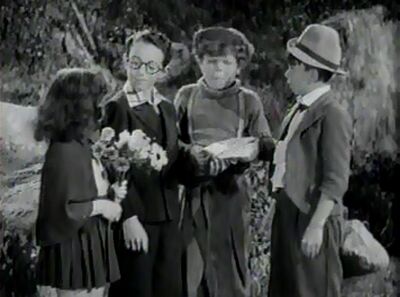 Production Notes
Length: One Reel
Producer: Jack Chertok
Director: George Sidney
Photography: Robert Pittack
Editor:
Titles:
Writer: Howard Dimsdale
Released: August 27, 1938
Studio: M-G-M

Main Cast
Supporting Cast
Frank Jaquet - Uncle Frank
Grace Bohanon
Payne Johnson
Robert Callahan
The Short
Plot: Ever fickle Darla has been asked by Waldo to accompany him to the Greenpoint Strawberry Festival. The problem is that she's already been asked by both Alfalfa and Butch competing for her attention. He suggests that she goes with whomever wins the position of Junior Mayor for Boy's Week, and this starts a three-way competition between the boys. Alfalfa starts a clean-up campaign, but his effort is foiled by the litter produced by Butch's "marshmellow" roast with free food. Alfalfa then tops him with a sky-writing balloon, topping him with the biggest crowd yet. On the big day the winner is announced, the mayor chooses Waldo as Junior Mayor on account of his good government essay, but Waldo lets it slip the mayor is actually his uncle.
Quotes:
"Honesty and faithful service will always win out over sensationalism." - Uncle Frank

Notes/Trivia:
Alfalfa's balloon is named "Darla 2nd."

This was the first Our Gang short by director George Sidney. Admittedly, he was only seven years older than the oldest Rascal, and afterward, he blamed working on the series to his being conditioned to hate kids.

Sequence
---