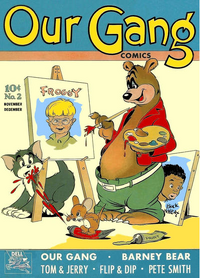 Overview
Our Gang # 2 was the second issue in Walt Kelly's Our Gang Comic Book series. The issue was first released by Dell Comics around November to December of 1942. It would be Kelly's last comic to feature Spanky, as Spanky had been dropped from the Our Gang series around the same time of the issue's release. The Our Gang material for the book is covered for ten pages.
Main Characters
Supporting Characters
Harvey
Harvey's wife
Sam Hawkes
Sam's henchman
Two unamed police officers
The Story
Plot: The gang have created their own newspaper. For their latest headline, the kids decide to cover the upcoming blackout that will be held in Greenpoint. Reporter Froggie gets permission from the police to interview people during the blackout. Froggie comes upon a suspicious man who is taking tires off of a car. The man (who refers to himself as "Old Honest Sam Hawkes") convinces Froggie that he's taking them off so that nobody will steal them during the blackout. Not knowing that the man is actually a crook, Froggie offers to hide the car tires in the Our Gang clubhouse. After Hawkes leaves the clubhouse, a suspicious Froggie tells Spanky about Hawkes. Spanky notices that that the initals on the car tires are "M. M.", and remembers that he had helped Miss Milbrook, the nurse, put her initals on the tires the other day. Realizing that he's a crook, the gang decide to catch Hawkes red-handed. Spanky and Mickey chase after Hawkes, with two policeman following. In an attempt to hide from the cops, Hawkes pretends to go swimming in a nearby lake. Mickey notices that a cover of the gang's newspaper wound up on the seat of Hawkes' pants after he accidentally sat on the press, and Hawkes is immediately arrested.
Quotes
"Say, Mr. Editor in Chief-my news about Mrs. Tomkin's cat having six kittens was printed upside down!" - Janet
"Well, the cat doesn't take our paper anyway" - Spanky
Notes/Triva:
First apperance of the gang's goat, Julip.
Sequence
Community content is available under
CC-BY-SA
unless otherwise noted.