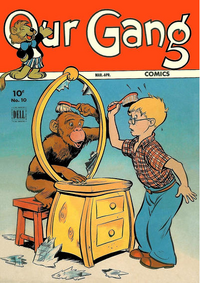 Overview
Our Gang Comics # 10 was the tenth issue in Walt Kelly's Our Gang Comic Book series. The issue was first released by Dell Comics around March to April of 1944. The Our Gang material for the book is covered for twelve pages. The issue is a direct continuation of the previous issue.
Main Characters
Supporting Characters
The Story
Plot: Picking up where the previous issue left off, Deadlight Dan and the kids are still exploring for another island. While searching, Buckwheat and Happy get into a dinghy in order to go fishing. The two find themselves in trouble when a shark pursues them. Mickey has the idea to get rid of the shark by loading a gun with flash powder, and turning the can of the remaining flash powder into a bomb. With the shark defeated and everyone back on the ship, Froggie spots a nearby island. The crew land their ship and scope out the area, but are immediately terrified when they are met with a group of animals (a lion, a tiger, a leopard, and a chimpanzee). While Dan and the boys hide in a tree, Janet runs into a nearby shack, where she finds a note. The note was left by a previous island castaway, who eventually left the island on a rowboat. The note indicates that the animals on the island are actually trained animals, and therefore harmless. The former castaway also mentions that he will return to the island for the animals in the future. After having some fun with the boys by palling around the animals, Janet eventually shows them the note. Dan suggests that he and the gang stay on the island until they can be rescued.
Notes/Triva:
Goof: Despite having no other clothing with them, several of the gang's outfits have changed from the previous issue.
Quotes
"Effen yo don't stop ketchin' crabs with that oar, Happy, we isn't gone ketch any fish atall..." - Buckwheat
"Aw, stop showin' off your seamanship!" - Happy

Sequence
Community content is available under
CC-BY-SA
unless otherwise noted.