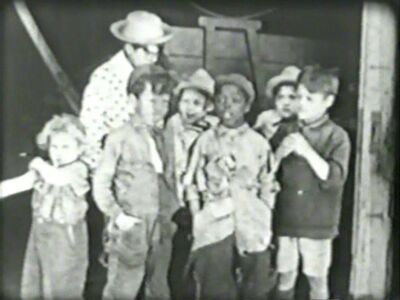 Production Notes
Length: Two Reel
Producer: Hal Roach
Director: Robert F. McGowan and Tom McNamara
Photography:
Editor:
Titles: H. M. Walker and Tom McNamara
Writer: Hal Roach and Tom McNamara
Released: September 10, 1922
Studio: Pathe Exchange

Main Cast
Supporting Cast
The Short
Plot: Mrs. Pennington Van Rensselaer is a leader of the local high society. She steals the idea of sponsoring an outing for the underprivileged children of the neighborhood from a rival socialite in order to get her name in the newspapers. However, her initial invitation to five children soon swells to include several others and her pet monkey, secretary and chauffeur begin feeling the stress. There's a flat tire in getting there, and the kids exacerbate the repair process by hanging over the chauffeur trying to fix it. At her country estate, they turn her decorative fountain into a swimming hole and soon annoy the local animals. A missing pearl necklace sets off a mad chase through the house with the monkey being the culprit. At the end of the day, everyone clambers back into the open convertible for the ride home, just as the other front tire goes flat. All this has been way too much for Mrs. Van Renssalaer who faints dead away from exhaustion.
Quotes:
"Mrs Pennington Van Rensselaer. Fair, fat and fussy. One of those wealthy ladies who have absolutely nothing to do...And never fail to do it." - Screen Narration

Notes/Trivia:
Although fourth in production, this short was the first in the series released to audiences.

The character of Caroline Culpepper was erroneously listed as "Carlene Culpepper" in Maltin and Bann's book

Sequence
---
Community content is available under
CC-BY-SA
unless otherwise noted.