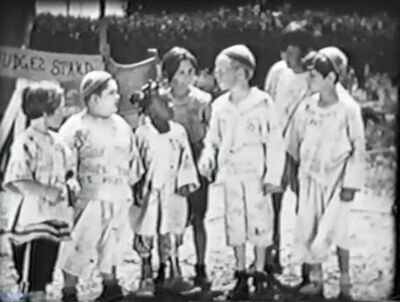 Production Notes
Length: Two Reel
Producer: Hal Roach
Director: Anthony Mack
Photography: Art Lloyd
Editor: Richard Currier
Titles: H. M. Walker
Writer: Hal Roach
Released: September 11, 1927
Studio: Pathe Exchange

Main Cast
Supporting Cast
Joseph Metzger (unconfirmed)
Robert Parrish (unconfirmed)
The Short
Plot: In their version of the Olympics in Stockholm, the Little Rascals take over a vacant lot in Dooley Flats and fill it with their own version of the Olympic events with equipment of their creation. Farina tries the shot put, but is attacked by a bee. Spec tries the pole vault, but the wind is working against him. Harry tries the javelin, but bounces one off Farina's head, and later hits Joe in the rear. Jackie goes for the hurdles but goes through them. Joe Cobb tries the high jump, but has "trouble getting off the ground." There is also a puddle into which Paul Toien falls repeatedly, and Mango jumps into once, resulting in her rubber panties filling with a large amount of water. Everyone is getting upset by the sound of "raspberries" at their failed but determined attempts. They are unaware the sounds are being made by Wheezer hiding in the brush, and even his dog, Minnie, has figured out how to make the annoying noise of disapproval. Several innocents accused of the noises are beat up anyway. Peggy and a girlfriend show up to watch, but when they set up the track course, they stretch an inner tube across the course that no one can get through to finish; they all just slingshot back into oil spilled on the field (except Paul, who falls into the puddle again). In the end, the boys who were unjustly beat up arrive to take back their field and tempers flare into a confrontation of throwing trash at each other. Wheezer by now is discovered behind the "raspberries," but when the gang goes after him, he sics Minnie on them to chase them off.
Quotes:
"I only fight on Tuesdays an' Thursdays, doctor's orders." - Joe Cobb

"Every time I bend over, somebody shoots me!" - Joe Cobb
"-Let's duck him!- He's feverish!--" - Joe Cobb

Notes/Trivia:
This short is included in the Brentwood Home Video DVD.

This was the first short for Robert F. McGowan after a three-month vacation.

Sequence
---
Community content is available under
CC-BY-SA
unless otherwise noted.